The B2B Marketing Budget – How others will do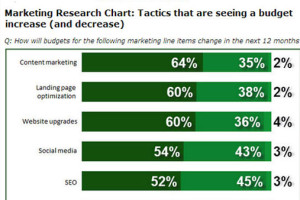 Your company and your marketing needs are unique. But it helps to get inspired by others, and it sometimes help when convincing your manager to look at what other companies do.
MarketingSherpa recently asked a large number of marketers how they planned to change tactical allocations over the next 12 months. Content marketing, landing pages and website upgrades came out on top for increases. Print advertising, broadcast advertising and trade shows where the areas where they will decrease.
Read the full article including the full chart over the results >>
Like
Thanks!
You've already liked this