Free ebook: Rethink your content marketing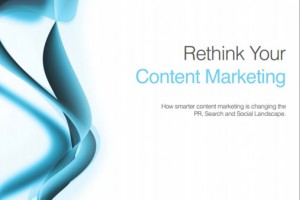 This is the most comprehensive ebook on content marketing that I've seen! It captures the concepts and ideas of thirty-one of the most prominent individuals working within the digital marketing domain.
List of contributors and the titles of their chapters:
Joe Pulizzi: Foreword
Lee Odden : The Speed of Change
Bas van den Beld: The Role of Content in Modern Day Marketing
Rick Ramos : 7 Reasons Why Content Marketing is the New Black
Matt Roberts: Use Content to Supercharge Your Organic Marketing
Rob Garner: If You Have a Website, Then You Are Already a Real-Time Publisher
Andrew Smith: What Can Content Marketing Learn from PR? And Vice Versa
Danny Denhard: Creating the Perfect Cocktail: Do PR, Social, SEO and Content Mix Well Together
Nick Garner: Organic Marketing Driving Social Influence
Phil Mackechnie: Breaking Down Internal Silos
Robert Rose: Be Remarkable or Fail
Kevin Gibbons: Creating a Multichannel Content Marketing Strategy
Paul Roetzer: The Art and Science of Content Marketing Collide
Michael Brito: Transforming Your Brand to the Next Media Company
Ann Handley: Does Your Content Convey Honest Empathy
Darren Fell: With Content, You Reap What You Sow
Hannah Smith: Why You Need Great Content
Stuart Tofts: How to Use Content to Diversify and Strengthen Your Online Marketing
Melissa Rach: What Makes Content Great
Sonja Jefferson and Sharon Tanton: The Year That Content Grew Up
Susan Genelius: Great Content is Shareworthy Content
Suzanne Fanning: Content is No Longer King
Henneke Duistermaat: How to Write Great Content and Become an Influential Writer
Avinash Kaushik: The See-Think-Do Framework
Simon Penson: Content Strategy (Make Your Ideas Your Friends)
Andreas Ramos: The Hub-and-Spoke Model of Content
Chelsea Adams: 5 Fresh Ways to Use Content Marketing as Lead Generation
Jonathan Alderson: Measuring the ROI of Content Marketing
Stephen Lock: Frameworks to Audit, Measure & Maximise Content Marketing ROI
Gerry McGovern: Quality Content Means Measuring Outcomes, Not Inputs
Kristjan Hauksson: Content Impacts on a Global Scale
Like
Thanks!
You've already liked this