Are You Talking About What You Want to Say or What Your Investors Want to Know?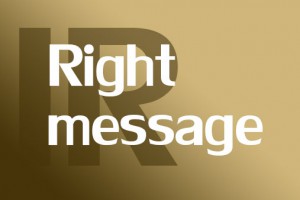 IR professionals are formulating messages all the time, whether it's in an investor presentation or an annual report. It's tempting to base those messages on what the company wants to say, not what investors want to hear. It might be a successful tactic short term but it will for sure not win your investors' attention in the long run. In IR we are competing with other public companies about the investor's time and attention. To have a message that is tailored for the audience is as important as in any marketing activity.
Read more about the mismatch that apparently is to be found in the real world and how to avoid it >>
Like
Thanks!
You've already liked this