7 surefire ways to frustrate a journalist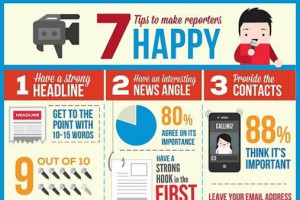 An infographic from Precious Communications and My News Desk lists seven ways PR pros can make reporters happy, seven ways to make them angry, and the five components of a good story.
It can look simple, but every day we see press releases not fulfilling the basic journalist needs, so it is probably not as simple as it seems. And you can also use this infographic to show stubborn people in your organization that they are wrong!
Avoid these seven mistakes:
1. Sending a lengthy press release. The reporter won't read it.
2. Listing an elusive contact person. Seventy-five percent of journalists are frustrated when they can't contact a spokesman.
3. Not having an online presence for the brand. Seventy-four percent of journalists Google companies after they receive press releases.
4. Using bad grammar.
5. Having a boring news angle. One hundred percent of journalists say it's important to have an interesting angle.
6. Force-feeding information. Provide background information, and remember to be concise and relevant.
7. Sending poor visuals.
Click to see full infographic >>
Like
Thanks!
You've already liked this