25 tips to punch up your writing
Press releases, blog posts, web copy… there's always something to be written. But the inspiration is not always there. Here's 25 quick ideas from PR Daily to improve your writing: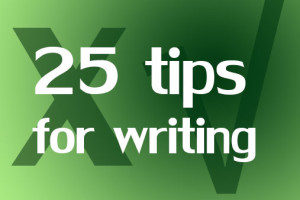 1. Cut clutter.
2. Use spell check. It's an obvious tip, but an important one.
3. Read aloud.
4. Use active verbs.
5. Choose your words carefully.
6. Eliminate empty modifiers.
7. Vary sentence structure.
8. Don't be afraid of simple sentences.
9. Make bullet points brief.
10. Write in second person.
11. Show what's in it for readers.
12. Read good writing.
13. Make headlines interesting.
14. Break up paragraphs.
15. Make text scannable.
16. Know your audience.
17. Be credible.
18. Outline or mind map.
19. Remember your goals.
20. Mix it up.
21. Ask and answer a question.
22. Include a call to action.
23. Enlist fresh eyes.
24. Give it a day.
25. Stay inspired.
Like
Thanks!
You've already liked this